Posting AsliJuly 9, 2016 @ 11:35 PM
Entering the Shawwal month, dated the 1st night of Shawwal it usually starts crowded in the KUA office, which is the existence of marriage, usually the KUA office on the night of Shawwal gets a bride and groom of around 70 registered to be married. This moment was taken because there were many rewards in it, then for the reception it could be held on another day. Well at that moment, usually the prospective husband and wife will be busy preparing both from clothing, food, wedding clothes, tarub, aisle seats along with decorations and other albums of uniform albums, and also including invitations. This time there is one collection from the fb account named mas Khairiel Amri who shared the invitation and I have asked permission to share it for you all.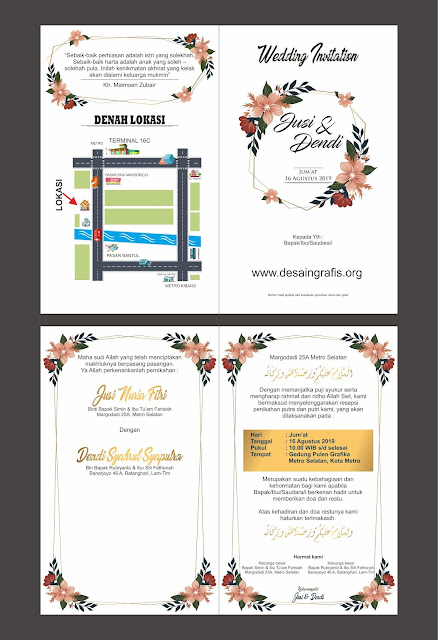 The invitation above includes the type of vintage invitation, where the invitation is characterized by a flower decoration whether on the top, bottom, outside or part of the invitation. Invitations for models like this are viral and many people are interested because the design model is simple and elegant, with a blend of colors and interesting font combinations. This invitation looks exclusive and like an expensive price, even if we are clever in choosing, this invitation is actually a cheap price category. The design of this invitation is cool because it has proven that there are already many consumers in this case the bride and groom who chose it. Now for those of you who are interested in downloading the CDR invitation file, please note the download link below.
Here is the download link for an example of a free flower motif invitation design cdr
[Contact us if the download link is broken]
Click on our Facebook likes and share to get the latest cdr file updates